Our Teachings
Our Teachings
Our teachings can be summarized into three main pillars: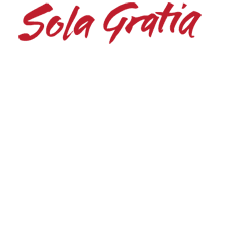 1) Grace Alone
2) Faith Alone
3) Scripture Alone
Here is a summary of what each of these three pillars mean:
1) Grace Alone
One thing that's pretty clear about life is that we all have needs. This distinction about humans is true regardless of race, gender, age, or religion. Needs confront us in every area of life as well. Some day-to-day needs are food, shelter, clothing, and rest. Bigger areas of need might be finding love or a companion, completing a task, or working toward a career. But regardless of what needs we have, or how we go about fulfilling these needs, one thing is always true: our needs show our limitations.
As humans, we are limited creatures. We fail, we make mistakes, and at many times we are wrong. All of our limitations come from one thing and that's sin. No one is perfect and without faults, and it's because we are all sinful. Because of sin, we need help in life. That's where the idea of religion comes into the picture. People use religion to help solve or cope with the problem of sin. As you well know, there are many hundreds of thousands of religions out there. How do you know which one actually has the real solution for sin? To people the problem is clear, but the solution isn't.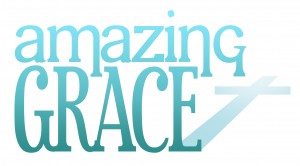 The solution to sin is found in Grace, specifically the Grace of God. Grace essentially means "undeserved love." You can't earn Grace, you can't buy Grace, you can't choose Grace, it is simply a gift from God. It's the love that He has for you which you do not deserve. But just like there are many religions, so there are many gods. Grace only comes from one God, and that is the Triune God – Father, Son, and Holy Spirit. This is the God of the Bible.
Grace not only gives us blessings today for our physical needs, it extends forgiveness for our great spiritual ailment of sin. By Grace, God the Father sent His Son, Jesus, to earth to live the life that we couldn't. Jesus was perfect in every way; He was both man and God. He kept all of God's laws and requirements and He loved all people without sinning once. Because of this, Jesus is the only person to ever live without limitations because of sin. Jesus completed His life by laying it down in death upon the cross. He did this for you and me, for the whole world. By Jesus' death God grants all people forgiveness.
However, death could hold no power over Jesus, and He rose from the dead 3 days after His death. Because of Jesus' resurrection, God guarantees that all who believe in Jesus will never be held by death either. The perfect life that Jesus earned, is now given to us by Grace, and we receive this life as our own by the next pillar: Faith.
Grace is the starting point of everything we teach at Bethel. This is because without Grace, we would have nothing, we would know nothing, and we would be nothing. Grace fuels and motivates everything we do as Christians to the glory of God. Grace is the reason we can have hope despite our limitations and needs.
Some Bible passages on Grace:
Psalm 84:11 For the LORD God is a sun and shield; the LORD bestows grace and honor. No good thing does he withhold from those who walk uprightly.
John 1:17 For the law was given through Moses; grace and truth came through Jesus Christ.
Ephesians 2:8-9 For by grace you have been saved through faith. And this is not your own doing; it is the gift of God, not a result of works, so that no one may boast.
1 John 4:9-10 In this the love of God was made manifest among us, that God sent his only Son into the world, so that we might live through him. In this is love, not that we have loved God but that he loved us and sent his Son to be the atoning sacrifice for our sins.
2) Faith Alone
If you've ever gone to church before or thought about God, you've probably asked yourself, "How do I know that I'm saved?" That's a pretty important question, especially when we consider what happens after this life. The Bible answers this question for us and the answer comes from faith. In our day and age faith can mean a lot different things. You might have faith in your car to start on a winter morning. You might have faith in your kids or in your elected leaders to do the right thing. You might have faith in medicines to help you overcome sickness. A simple definition of faith is 'trust.' But what really matters, is what you trust, what you have faith in.
When the Bible speaks of faith its always talking about a very specific faith. You see, faith does not operate on its own, it always finds its source in something or someone. Faith in the Bible is founded on Jesus Christ, and how He suffered and died for the sins of the world and rose again victoriousover the grave. This work of Jesus is called Justification, which means to "declare not
guilty." When a Christian has faith, it means that he or she trusts that Jesus has done this, and that He blesses him or her through it. Like we mentioned before about Grace, Jesus has done everything that is needed for forgiveness and life with God already. He now invites all people to believe in Him by faith. Just as Grace operates apart from our works, so also faith operates apart from anything we do. This is why we say "Grace Alone" and "Faith Alone." Having faith in Jesus means that one trusts in Him for salvation, not in his or her own works. When God sees faith in Jesus in someone's heart, Jesus' perfect record is given to that person, in place of their sin-stained record. Jesus' perfect record is the only thing that can get someone into heaven.
The third person of the Trinity, the Holy Spirit, is the one who creates faith in a person's heart. This is usually called conversion. The Holy Spirit uses the Word of God to do this, which is one of the many reasons that we place such a big emphasis on using the Word in our church and private lives. So if we trace the steps so far, we begin with God's Grace through which He has Justified the entire world by the death and resurrection of Jesus. Since all have been declared "not guilty," God now invites people to believe this by faith, which is created in a person's heart when the Holy Spirit uses the Word of God. To further demonstrate the importance of God's Word, we move into our final pillar: Scripture.
Some Bible passages on Faith:
Ephesians 2:8-9 For by grace you have been saved through faith. And this is not your own doing; it is the gift of God, not a result of works, so that no one may boast.
Romans 3:28 For we hold that one is justified by faith apart from works of the law. 
Hebrews 11:1 Now faith is the assurance of things hoped for, the conviction of things not seen. 
Romans 10:17 So faith comes from hearing, and hearing through the word of Christ.
3) Scripture Alone
The term "Scripture" is just another word for the Bible or God's Word. If you're going to believe something or have faith in it, it had better be trustworthy. This is why we rely on God's Word alone for spiritual truth. God clearly tells us everything we need for salvation through His Word. We can trust what the Bible says because God has divinely inspired every book in the Bible. In other words, He "breathed into" the various writers the thoughts and words that He wanted them to write. The Bible is the only source we can trust to teach us the truth of salvation because it is the only source we have that comes directly from God.
The layout of the Bible falls into two main categories: the Old Testament and the New Testament. The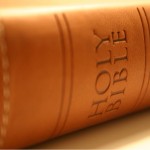 books of the Old Testament were written before Jesus came to earth. The books of the New Testament were written after Christ came to earth and ascended back into heaven. The Old Testament and New Testament complement each other and are both inspired by God. The content of the Bible also falls into two categories: the Law and the Gospel. The Law tells us all of the requirements that God has for people and what God expects of people. The Gospel tells us what God gives to us and how Christ fulfilled all of God's expectations in our place. A simple way to understand the two is that the Law shows us our sin because of how we fail to uphold God's expectations and commands. On the other hand, the Gospel shows us our Savior and everything He has done to right our wrongs.
Earlier we mentioned how the Holy Spirit uses the Word of God to create faith in people's hearts. The Law is used to condemn a person's sin and to show them that they cannot earn God's Grace on their own. This leads the individual to confess and repent of their sin. The Gospel is used to uplift someone by assuring them that Jesus Christ forgives them of their sin and offers His spotless record as their own. Both the Law and Gospel are important, but they used is different ways. They are not interchangeable nor do they bring the same message. Much like the Old and New Testaments, the Law and Gospel complement each other. The Gospel is especially important because it tells us about Jesus. Without the Gospel, we would know nothing about the free salvation from sin that Jesus offers to all people. Again, this salvation is guaranteed by God's Grace and comes to each person by faith.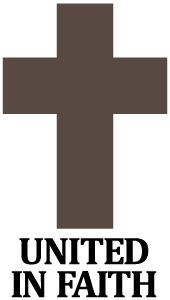 One of the special joys of joining our church is the gift of Christian fellowship. Fellowship means that as members who believe the same thing, we share in our receiving of the gospel, our joy in its forgiveness, and our mission to spread it to others. God wants Christians everywhere to share and enjoy fellowship. But God calls us to have fellowship only with those who believe all of the teachings of His Word as His Word correctly presents them. God wants us to make sure that we agree in everything that His Word teaches before we share together in fellowship activities such as: Prayer, Communion, Baptism, and Worship. In short, God desires for us to have true and complete unity around His Word.
Some Bible passages on Scripture:
Proverbs 30:5 Every word of God proves true; he is a shield to those who take refuge in him. 
2 Timothy 3:15-17 And how from childhood you have been acquainted with the sacred writings, which are able to make you wise for salvation through faith in Christ Jesus. All Scripture is breathed out by God and profitable for teaching, for reproof, for correction, and for training in righteousness, that the man of God may be complete, equipped for every good work. 
John 8:31-32 So Jesus said to the Jews who had believed him, "If you abide in my word, you are truly my disciples, and you will know the truth, and the truth will set you free."
1 Corinthians 1:10  I appeal to you, brothers, by the name of our Lord Jesus Christ, that all of you agree, and that there be no divisions among you, but that you be united in the same mind and the same judgment. 
For more information on differences in churches, click HERE.
For more information on our Synod and Fellowship, click HERE.
WE STILL BELIEVE . . . 
In an age of constant change, we still believe in the unchanging Holy Trinity: Father, Son, and Holy Spirit — three persons in One God.
In an age of Humanism's confusion, we still believe that God created the universe in six 24-hour days as revealed in Genesis, and that the whole Bible is God's Word, free from all errors, contradictions or myths.
In an age of doubt, we still believe that Jesus was conceived by the Holy Spirit and born of the Virgin Mary.
In an age of fear and guilt, we still believe that Christ died on the cross as payment for the sins of the world, and that He arose from the grave because His sacrifice was accepted by God, so that the world is declared righteous on account of Him
In an age of do-it-yourself religion, we still believe that eternal salvation is through faith in the "good news", not obedience to the law; by grace alone, apart from all works; by the Holy Spirit working through the Gospel in the Word and Sacraments, not by human reason, religious sincerity, spiritual fervor, "Spirit-baptism" or any other condition, work, or "add on" of man.
In an age of "agreeing to disagree", we still believe that to preserve the pure Gospel of Christ for ourselves and others, Christians are commanded by the Lord to test and judge all teachings and philosophies, hold to whatever is according to God's Word, and avoid all religious fellowship with that which is contrary to that Word.
In an age of "evangelical materialism", we still believe that the "evangel" is the proclamation of forgiveness and the gaining of heaven through faith in Christ, not the preaching of principles by which one may lead a "good" life and gain earthly prosperity.
"If you hold to my teaching, then you are really my disciples. Then you will know the truth, and the truth will set you free."
John 8:31-32